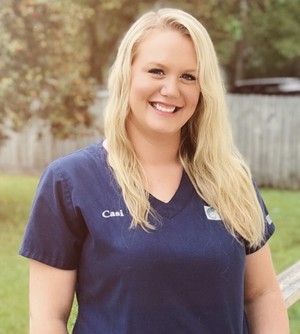 Casi - Practice Manager
Casi was born and (mostly) raised in Virginia and has several years experience in the dental field and a vast knowledge of dental insurance plans. Casi is our practice manager and is here to help guide you through your entire experience by aiding in any questions prior to your visit with us, greeting you when you come in, and any insurance/financial concerns. Casi wears many hats around the office and is always eager to help in any way she can -- she is determined to make every experience for our patients a pleasant one. When not working, Casi enjoys spending her time with two children and french bulldog, Hank, spending time at the beach and outdoors, gardening, and doing DIY projects around her house.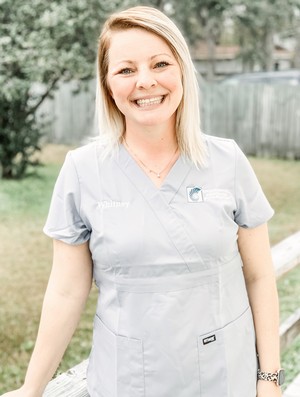 Whitney - Marketing Director
Whit is a Moncks Corner native! She was introduced to the Endodontic field while studying Spanish at the College of Charleston. Quickly finding a love for Endo, she became Endodontic Associates of Charleston's very first employee back in 2008. Whit was essential to establishing both offices and building our referral base. After working full-time for several years as the face (and backbone) of our practice, Whit made the admirable decision of staying home and raising her three beautiful children with her husband, Cam. We are so blessed to welcome Whit out of retirement and back on our team as our marketing coordinator. Whit's beautiful smile, bubbly personality, and charming wit are sure to brighten any office! In her free time, she does laundry!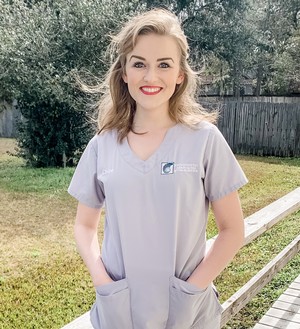 Chloe - Front Desk Associate/Dental Assistant
Chloe was born and raised in Georgia and is a 2018 Honor Graduate from the University of North Georgia, where she earned her Bachelor of Science in Biology. She then moved to Charleston to be closer to family. As a pre-dental student, Chloe wants to gain more knowledge and experience in the field, as well as establish professional relationships with the dental community here in South Carolina. Chloe's smile and positivity is a blessing to have around the office, and she is very eager to make each patient's experience in our office as pleasant and comfortable as possible. When not working, Chloe enjoys exercising, singing along to Disney tunes, painting, exploring the area, and staying updated on new research in the biology field.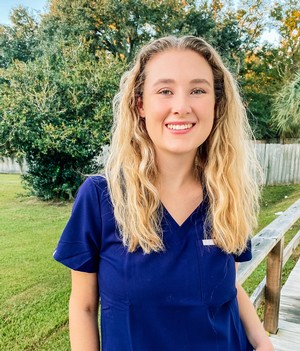 Madison - Dental Assistant
Madison was born and raised in a small town on the central coast of California. After heading to northern California for her undergraduate degree, Madison decided she wanted to venture farther from home and settled on North Carolina where she attended East Carolina University and earned an M.A. in Anthropology. Madison cherishes her anthropological education, as it has given her a foundation of cultural competency and human dentition - both incredibly useful in the world of dentistry! Madison would up settling in Charleston on a whim, and outside of work enjoys touring the historic sites and spending time with her dog Clover.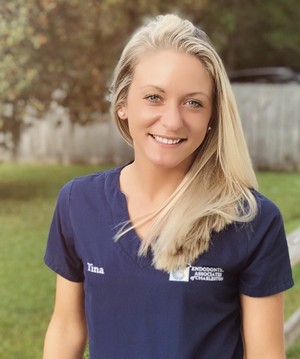 Tina - Dental Assistant
Tina came to us in 2018 after moving to Charleston from Virginia. She truly loves being a part of the dental community and is always looking for ways to learn and expand her horizons within the field. Tina prides herself on treating every patient as if they were family and making their visit with us as comfortable as possible. When not working, Tina loves spending time with her daughter, Haven, and experiencing everything Charleston has to offer.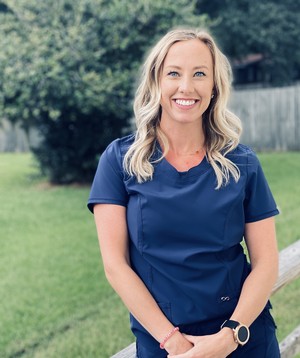 Lacee - Certified Dental Assistant
Lacee was born and raised in Nebraska and is a HUGE Husker football fan! Lacee recently relocated to Charleston from South Dakota and has fallen in love with the area. Lacee has over 7 years of experience as a dental assistant and patient care is her true passion. Lacee's enthusiasm and positive energy is felt the moment she walks through the door! Outside of the office, Lacee spends her time with her beautiful daughters, Makenna and Piper. She is also very passionate about fitness and enjoys working out and going to the beach on the weekends!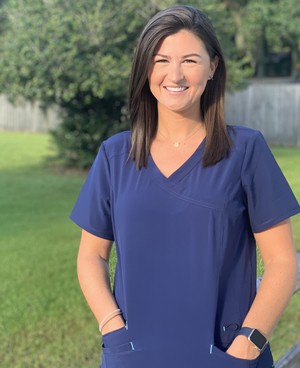 Mary Webb - Front Desk Coordinator
Mary Webb is from Kingstree, South Carolina - a small town north of Charleston. After graduating from Clemson University (Go Tigers!) with an undergraduate degree in health administration and a master's degree in marketing, she knew her career would revolve around healthcare. With her sister, Anne Miller, a graduate from MUSC dental school and her husband, Ken, a current MUSC dental school student, Mary Webb is eager to learn more about the world of dental medicine. Mary Webb's sweet personality and bubbly attitude make her a true joy to be around and when in her presence, you can't help but smile! She constantly aims to make the patients feel a sense of comfort when they enter the office. Mary Webb enjoys watching Clemson football, going to the beach, traveling, and spending time with family.